Short Track Railroad – Education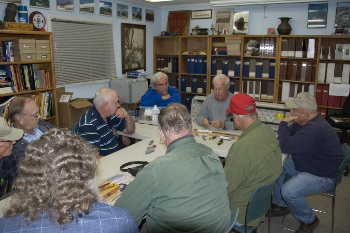 Clinics
We host clinics monthly on the 4th Thursday of every month at 6:30pm. Clinics are open to the public and everyone is welcome. Please see our Facebook Events Page for more information.
Clinics are taught by recognized experts in the area, as well as our Master Model Railroaders (MMRs).
Below is a list of some of our past clinics.
Track Laying
Handlaying Turnouts with Fasttracks
Track Ballasting
Wiring for DCC
Smart Phone and Tablets as DCC Throttles
Fun, Fast, Easy Trees
How to Paint with an Airbrush
How to Decal
Please feel free to come by on any clinic night. For more information about specific clinics please see our Facebook Events Page.
Research Library
 Our reference library is one of the best in the nation.
We have 1,000s of magazines, books, videos on railroading. For prototype or model railroading, you won't find a better spot to do your research.
If we don't have it, one of our research experts will be happy to point you in the right direction.
Scouting & Youth Groups
Several of our members are Eagle Scouts and we understand the value of the Scouting program. We support both Boy Scouts and Girl Scouts.

We have certified Merit Badge Counselors for the Boy Scouts. They are highly qualified, with a large club of very experienced people to draw from for more information.